Lower back pain when standing can make life uncomfortable. It can even affect your mood—or begin to interfere with your responsibilities at home and work. Whether your back pain is acute or chronic, it is important to learn more about your condition so you can take steps to treat it. Once you relieve your pain, you will enjoy a better quality of life.
Here in our guide, you will discover some of the most common back pain causes as well as some of the most recognizable symptoms. You will also find out what you can do to treat your pain and relieve tense back muscles.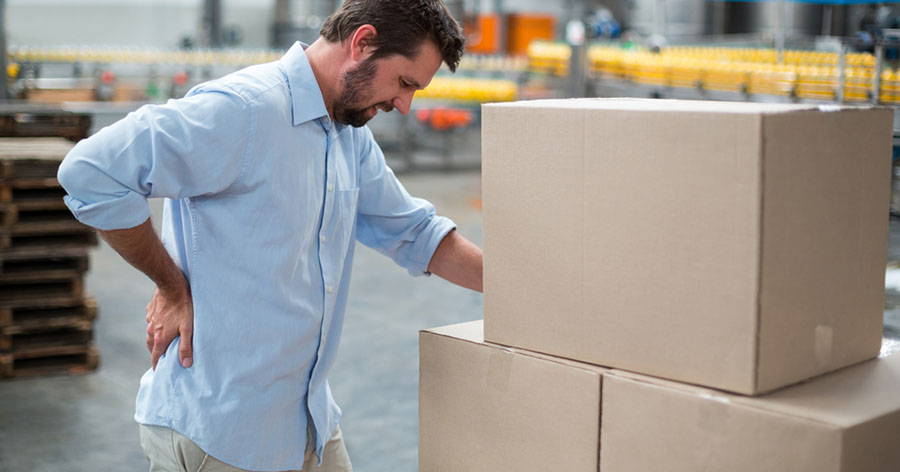 Reasons for Back Pain While Standing
If you visit a doctor for your lower back pain, you will discuss the sensations you feel, as well as other symptoms. Tell them if you experience a dull ache, a shooting pain, or even tension in your legs or back while you are standing. These could be signs of a specific injury or spinal condition.
Some of the most common causes of lower back pain when standing include muscle sprains and strains. It is also possible that you have a back condition like spinal stenosis or even a form of degenerative disc disease (DDD), which is characterized by wear and tear on the discs of the spine.
Other possible reasons why you are experiencing pain while standing or walking include muscle fatigue and a condition known as hyperlordosis. When a person receives a diagnosis of hyperlordosis from their doctor, they have an exaggerated curvature of the lower spine. Talking to your primary care physician or a spine specialist can help you to find the reasons for your symptoms.
Common Types of Lower Back Pain
If you have tension or discomfort in your lumbar area, you can count on experiencing a few typical sensations and feelings. The most common manifestations of lower back pain in adults include a dull ache, muscle spasms, and limited mobility. Some people also report an aching in the pelvis or hip area.
Along with aching pain, less common sensations include a sharp or tingling pain that radiates through your legs. It is also possible to experience a stinging or numbing sensation in your buttocks or feet. Other possible signs of lower back issues include pain that feels better when you change positions—like moving from a standing to sitting position. You may also feel more severe aching after waking up in the morning.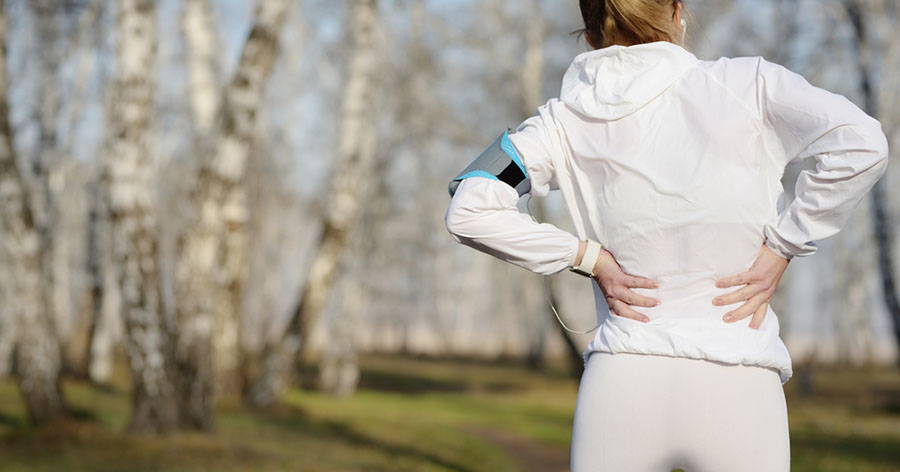 Helpful Treatments for Back Pain When Standing
You should, as soon as possible, receive treatment for back pain when standing. Enhancing your mobility and reducing your pain will help you tackle your daily responsibilities. You will also feel more energized and less stressed.
While your doctor can help you find specific back pain treatment options for your condition, there are a variety of helpful remedies available for lower back discomfort and muscle spasms. There are also easy ways to relieve back pain specifically caused by standing.
Try one of the following treatments for your back pain symptoms:
Rest Your Back: Some lower back problems are simply caused by overworked muscles. Try resting for the afternoon, the weekend, or a few days at a time. Continue your daily activities if the pain recedes and spasms subside. Discomfort lasting for more than three days should receive an evaluation from a doctor.
Stretch Your Muscles: Stretching can help to reduce tension in the muscles that support the lower spine. It can also help to enhance your range of motion and your overall back mobility. Try some of the most effective stretches for low back pain, including the knee to chest stretch and back flexion stretch.
Exercise Your Body: While lower back pain can be treated with rest, it is important to resume exercise after a few days. If you do not keep active, your back and core muscles can become weak. This can make back pain worse. Try gentle, low-impact exercises like walking, swimming, and yoga. While you may feel the tension in the beginning, a regular routine will help to keep your muscles mobile and limber. It can also help with posture. If you have any questions about which activities are right for you, talk to a doctor first.
Swap Your Shoes: If your shoes or sneakers are not supportive, they can cause back pain while standing. Purchase orthotic footwear if you work on your feet or plan on walking for a long period. Athletic sneakers can help absorb shock from movement and protect your lower body. If you like your shoes, try purchasing orthotic inserts. These can help to support your feet, legs, and lumbar area while you stand.

Expand Your Treatment Options: In addition to these self-moderated treatments, consider getting a professional massage. Physical therapy may also help you to strengthen your abdominal and back muscles while relieving pain and tension over time. Another choice is laser therapy for lower back pain. Many people who experience pain while standing are taking advantage of a cutting-edge treatment known as photobiomodulation therapy (PBMT), formerly often referred to as low-level laser therapy.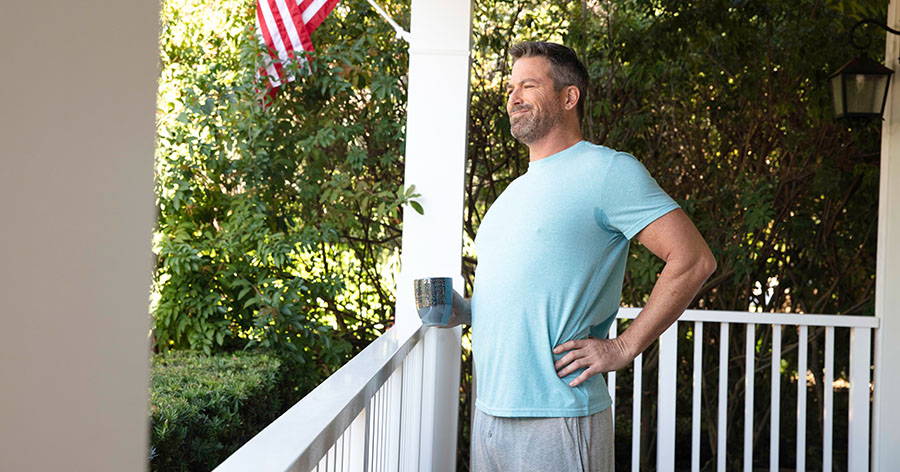 Treating Your Back Pain with Laser Therapy
Men and women of all ages and lifestyles like PBMT because it is a non-pharmaceutical and non-invasive treatment. It also has no known side effects. Wear your laser therapy device in the comfort of your home for only 30 minutes per day. Our Curavi™ laser light therapy belts offer three levels of coverage, including up to 1000 mW of total output and professional grade coverage with our premier device, the CuraviPro™.
As you wear your belt, you will modulate pain and inflammation while also reducing aches or muscle spasms. Continue your treatment as you work with your doctor. A combination of strategies can help you to relieve your lower back pain while standing.